Our goal at ChartRequest is to make the exchange of PHI quick and easy. We aim to break down data silos in healthcare by developing the fastest, most secure software solution possible. We hope you're as excited as we are about what's new.
Check out our latest updates to the ChartRequest platform.
Existing Feature Enhancements
Enhancement 1: We've updated the government ID upload process to be easily accomplished either in-app or via mobile device. Once uploaded, this can be found in the "Supporting Documents" section of requests when relevant. Custodian partners also may now require government ID verification during the request process.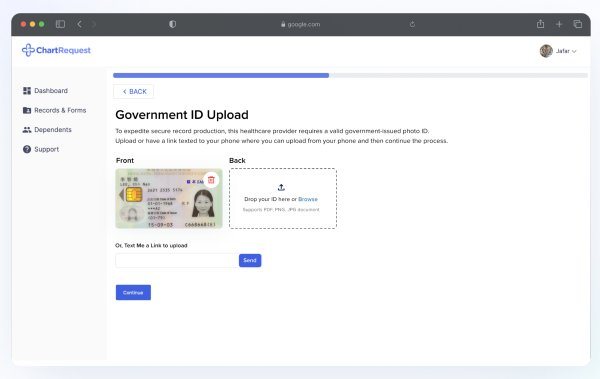 Enhancement 2: Enhanced Custodian Work Queue visibility with a new "View Custodian List" button to help healthcare partners understand which custodians have existing requests in each work queue. The Custodian Work Queue user interface was also updated to meet our design standards.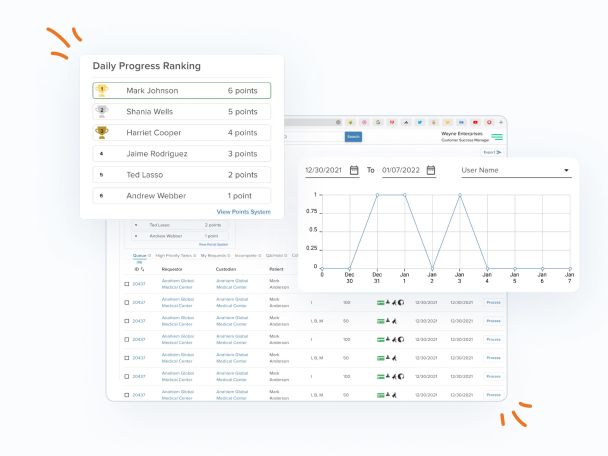 Enhancement 3: Case Binder Pro professionals can manage request authorizations and other important documents using our new Document Center. Here, legal and insurance professionals can:
Enjoy an updated user-friendly interface design for the Document Center.
Enter client details to prefill authorization forms, which can either be downloaded and shared manually or sent instantly for electronic authorization.
Check the status of each document sent.
Create requests immediately once an authorization is signed.
Filter documents by type for easy review.
Manually upload existing signed authorization documents with a new streamlined process.
Once a document has been sent, view the audit trail, create a request, or resend the form.
Issue Fixes
Resolved a critical error that caused uploaded supporting documentation to be deleted if the patient attempted to upload additional documents.
Case Binder Pro will no longer mistakenly display a second estimated price with a strikethrough line through it.
Removed a bug that occasionally fetched the wrong request details for patient requestors.
Eliminated an error that allowed a patient requestor to move their request status from Pending to Ordered.
The system will now display the correct "Pending" status when a requestor updates an "Incomplete" request.
athenahealth integration will no longer occasionally display mismatched numbers for the page count of retrieved records.
The system will now correctly update when "Clinical Review" is selected on record requests in the quality assurance stage.
Thank you for keeping yourself up-to-date on the latest ChartRequest news. If you have any questions or concerns, please let us know at support@chartrequest.com